Last month, I had the true pleasure of spending an entire day with HR practitioners and partners who are innovating HR across the Southeast. Being fired up about talent development, as I always am, I shared stories of Horizon Point's work helping clients craft thoughtful, strategic talent development processes. 
Talent development case studies often start with the "Who's on first?" problem. You know the one I mean.
We don't often know who's on first or what's on second. Who's getting promoted, nearing retirement, or leaving the organization for another opportunity? When they leave, who's up next in the succession plan? How are we developing emerging talent? How are we keeping track of the pipeline for future hires? Whew! 
The Association for Talent Development (ATD) says, "Definitions vary by country and culture, by industry, by organizational strategy, and by the responsibilities of the people practicing it. At the heart of talent development are the people—the talent. Ultimately, the function of talent development is to build employees' knowledge, skills and attitudes so the organization can succeed and grow." So how do we do that?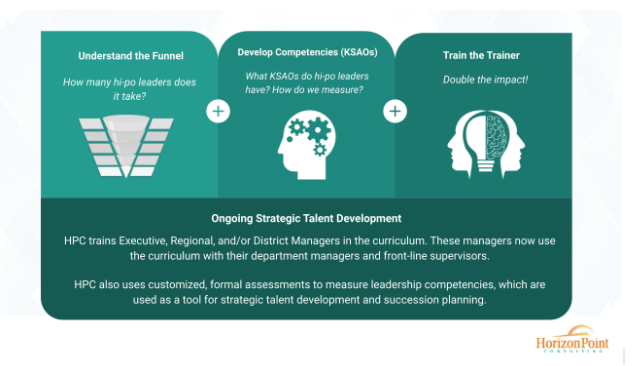 Step 1: We start with the basics, like current number of employees, organizational chart, turnover rates, etc. to help us understand the funnel and answer the question: How many high potential employees does it take to fully execute a strategic succession plan? 
Step 2: We ask what high potential employees will actually need to effectively execute the plan. This step involves job analysis and developing competencies or KSAOs. 
Step 3: We train the trainer. We equip all current executives and managers with the understanding and skills for ongoing execution of the succession plan, so that the HR department (and/or HPC consultants) isn't solely responsible. Talent development is everyone's responsibility. 
At this point, we help the organization shift into ongoing strategic talent development, with or without our help. To maintain development goals, organizations will incorporate assessments and coaching into the formal performance management and leadership development processes.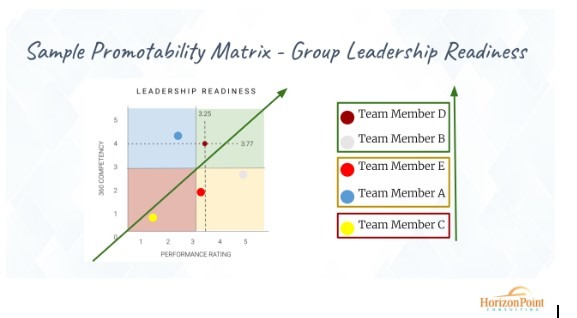 For example, we helped two clients develop custom assessments that are mapped to their organizational values and self-defined leadership competencies. These assessments help inform decisions about leadership readiness and/or promotability. 
By combining objective data and subjective insight from trained people managers, organizations can strategically solve the talent development puzzle!
Read more from HPC related to strategic talent development: