Last week, HPC met with our contacts with the state department of education. The meeting centered around current training, plans for a focus group and specific grades that could potentially be our next area of focus. In reflection, we have worked in partnership with them for more than 10 years. What began as a grant funded training project grew into a wonderful partnership that has allowed us to provide professional development with educators across our state year after year. Currently, we are training 100+ educators on career development and providing state and program specific resources.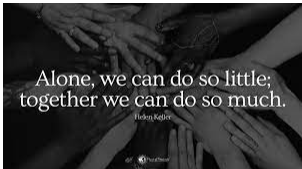 Here are the benefits I've seen from this partnership that continues to develop professionals who are literally preparing our future workforce.
Teachers, counselors, administrators, and career coaches learn from one another, sharing resources that are most helpful in their area(s).

Training content is being soaked up and is finding its way into lesson plans, field trips, and career days.

Collaboration flourishes as participants have the opportunity to create a group within their cohort to work on an assignment about an in-demand career. The assignment ultimately becomes a resource library of presentations that anyone in the training can access.

Completers of the course seek credentials and have the opportunity to receive continued education on topics most relevant for them and the students they serve.
Do you have a need for training or professional development in your school or organization? If so, let us know and I'm sure we can help or point you in the right direction!