Organizations have been extra creative lately with new benefit offerings and retention strategies. Is it working? Are employees utilizing those new perks and sticking around? Yes and no. SHRM explored the issue nationally, and our team has some local insight from the 2021 and 2022 North Central Alabama Wage & Benefit Survey. 
Aon reported in April that enrollment in voluntary benefits increased 41% from the previous year. Most of the increases were tied to medical benefits, as to be expected, but some may be surprising: 
The fastest-growing voluntary benefits employees enrolled in amid the COVID-19 pandemic include supplemental health insurance policies such as critical illness, accident, and hospital indemnity…Other popular voluntary benefits in 2021 were life insurance, student loan assistance programs, identity theft protection, legal benefits, pet care, and auto/home protection.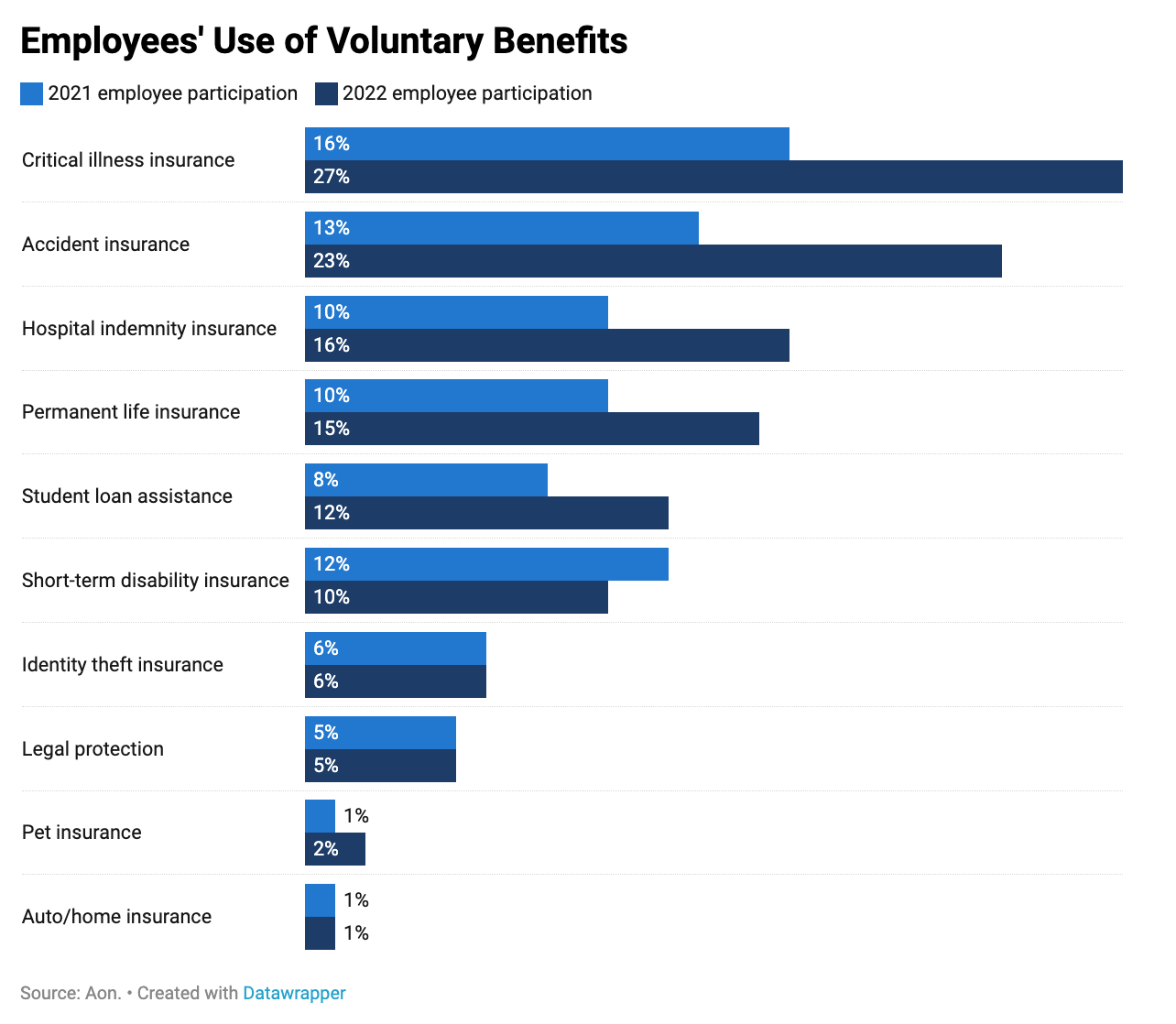 Graphic source: https://www.shrm.org/resourcesandtools/hr-topics/benefits/pages/employees-want-voluntary-benefits-but-dont-always-understand-them.aspx
SHRM referenced another survey from Voya that found that people are more likely to work for employers offering voluntary benefits, but people also reported that they don't quite understand all of the benefits available to them. 
Employers may be missing a critical piece of the puzzle – literacy. Information literacy, financial literacy, digital literacy… Do employees have equal access to education and training on what benefits are available, how they work, where to learn more (in various learning styles), etc.? If everything is available online, do all employees have home or work access to the internet? Is information available in different languages? 
SHRM also highlighted this from Buck's 2022 Wellbeing and Voluntary Benefits Survey report:
"We found that key drivers of employee retention include employees' perceptions of their organization's commitment to their overall well-being, diverse benefit options, and effective communications that raise awareness of their employer's offerings," said Ruth Hunt, a principal in Buck's engagement practice and co-author of the report. "To continue to attract and retain top talent, it's critical for employers to implement and promote programs that address whole-person well-being and substantively close the gap between management perceptions and employee realities."
The bottom line seems to be that employers will only see strong engagement with benefit offerings when they carefully and strategically implement and evaluate the effectiveness of such offerings. SHRM shares six tips from Krystie Dascoli, executive board president at the Voluntary Benefits Association.
Understand workforce demographics.




Find the gaps. 

Benchmark, benchmark, benchmark. 

Communicate information. 

Ensure integration.

Conduct a compliance review. 
Benchmark, benchmark, benchmark is where third-party survey administrators like Horizon Point come in. We partner with the local economic development agencies in our area to administer an annual North Central Alabama Wage and Benefit Survey representing employers across all sizes and industries. We ask general and specific questions about pay practices, compensation data by position, aggregate wages by occupational group, benefits for full-time versus part-time, and more.
Results for the 2022 local survey will be published in the coming weeks. Do you think we'll continue to see an increase in voluntary benefit offerings? Stay tuned!